Small bathroom? It doesn't have to be short on style. And it doesn't have to feel like a cave either. Many of the same tips for creating a standout space will also help to make it feel bigger.
Cover those walls
The old-school wallcovering is back in a big way, and you don't need a big space to make it work. In fact, the right print and some complementary details can make a small bathroom the most impactful room in the home.
Consider the vanity
 The floating vanity trend looks great in any type of space, but it was tailor-made for a small bathroom. Because it doesn't extend all the way to the floor, there is an airiness you wouldn't get with a traditional vanity. You can find versions with built-in storage, because who doesn't need a place to put a hair dryer?

pinterest.com
Or, go for the vintage look one of the hottest trends in bathrooms today. This version mounts to the wall, taking up the least amount of space possible, but still offers a clean and crisp look.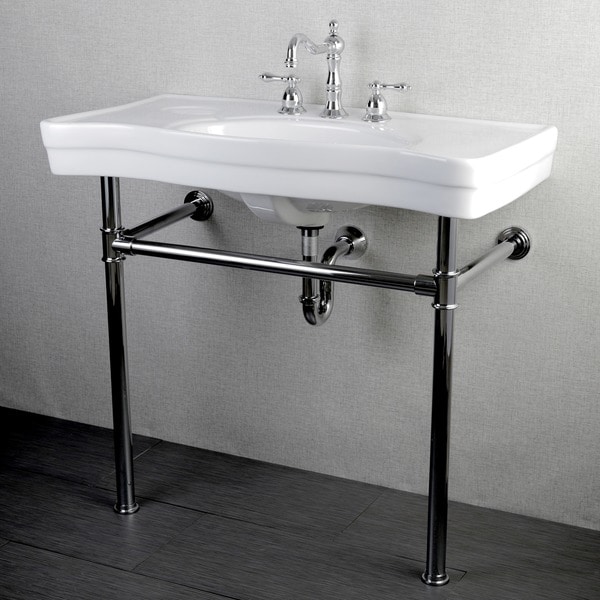 overstock.com
Keep the color consistent
And, keep it light and bright. This bathroom packs a lot into a compact space, but the color palette keeps it feeling airy. And the upscale materials, with marble tiles used in contrasting shapes, add a glam feel.

thespruce.com
Get artsy
Who says you can only display "bathroom-style art" in a bathroom? Ditch those framed pictures of Victorian baths and hang something you love, like this Robert Longo drawing in a New York City powder room.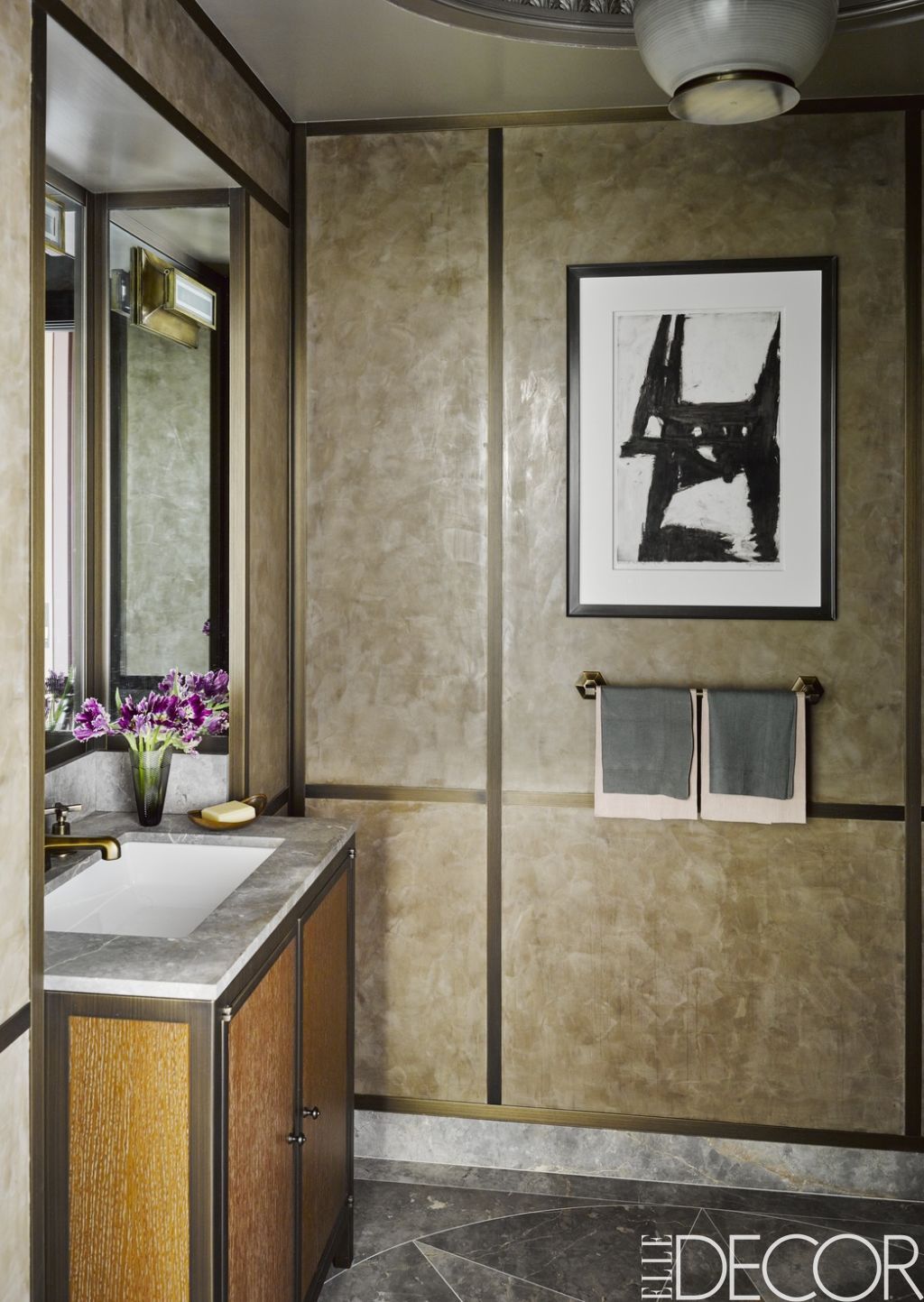 elledecor.com
Focus on the details
Keeping the palette bright white makes this space feel breezy and allows the snazzy details to stand out. A herringbone shape on the floor adds interest, and the modern brass fixtures would look amazing in any size bathroom.

housebeautiful.com
Don't forget about storage
Creating a sleek and stylish bathroom in a small space is enough of a challenge without having to think about where you're going to put everything. But, if your bathroom isn't just a space for occasional guests (or even if you just need a place to store the extra toilet paper), storage has to be a consideration. Whether it's a vanity with drawers, baskets you put on open shelving, or a custom cabinet, there are a lot of options. Apartment Therapy has some great ideas here.
Make tile your friend
There are a number of tricks you can use with tile to make your bathroom feel more expansive. "Set floor tiles diagonally to increase the perceived size of the floor," said SF Gate. "Choose rectangular wall tiles and set them horizontally on the walls to increase the perceived width of the space. Use the same color of tiles on the floor and walls to reduce the difference between wall and floor. If possible, carry the floor tile up the wall behind the fixtures, right to the ceiling. This visually expands the wall height."
In this New York City bathroom, zig-zag tile runs "straight into the shower stall," said House Beautiful. The lack of interruption creates a larger feel.

housebeautiful.com
The horizontal bands of mosaic tile in this shower don't only add interest, but also elongate the back wall, making the space look larger. The glass surround also creates a more open feel and unique touches like the countertop sink, distinctive mirror, and light fixtures add more jewelry to the room.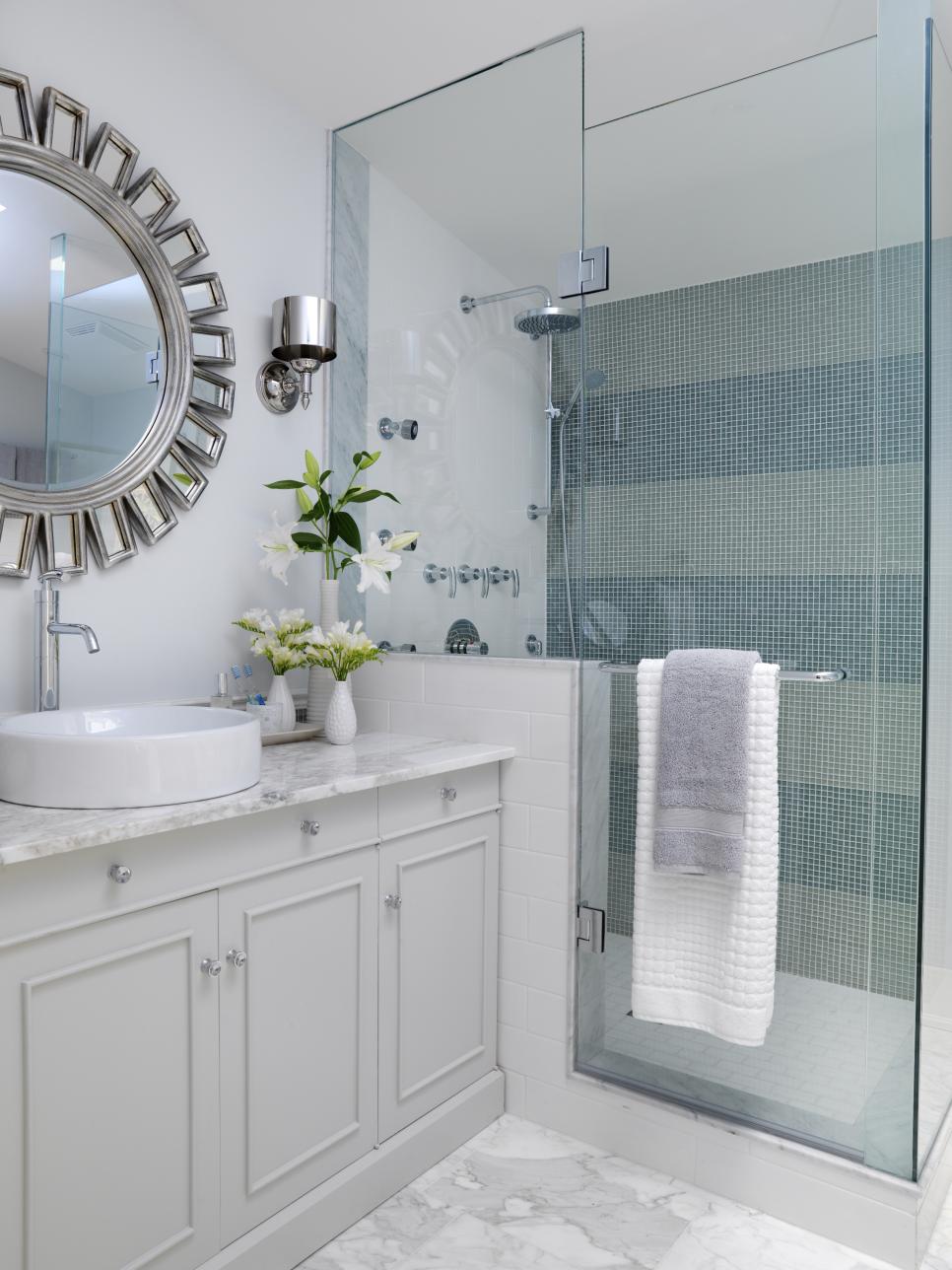 hgtv.com